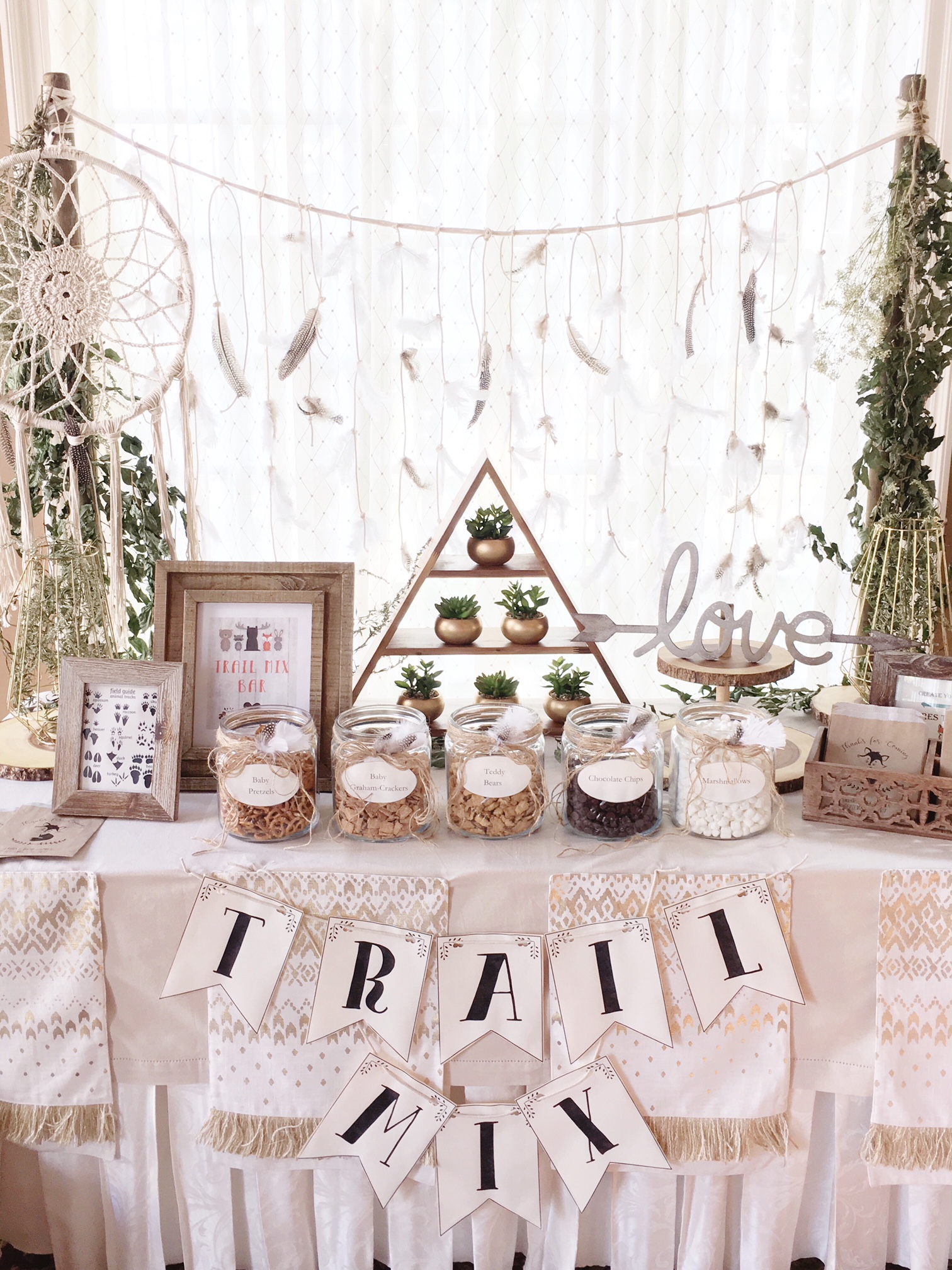 A few months ago, I had the honor of creating a sweet table for one of my best friend's Woodland Themed baby shower. I must admit I wasn't too sure what this consisted of, but when I dove in I was obsessed! An absolutely darling theme infused with cute woodland animals and outdoorsy rustic elements, a style that embodies everything that is "wild and free". As all the elements are pretty neutral, it can be done for both little girls and boys!
As I am all about the pretty little details that make a party extra special, I wanted to create something that was memorable. Instead of a candy bar or simple favor (that will most likely be left on the table), opt for creating this adorable Trail Mix Bar using your favorite ingredients! It's super easy to create and a budget friendly favor option that doubles as décor. Best yet, it will give your guests a chance to get out of their seats and give them an opportunity to Instagram your beautiful event!
Start with a fun backdrop! I created a boho swag made of a reinforced cotton clothesline ($6.99) and a bag of Guinea Fowl Feathers ($3.49) purchased at www.Joann.com.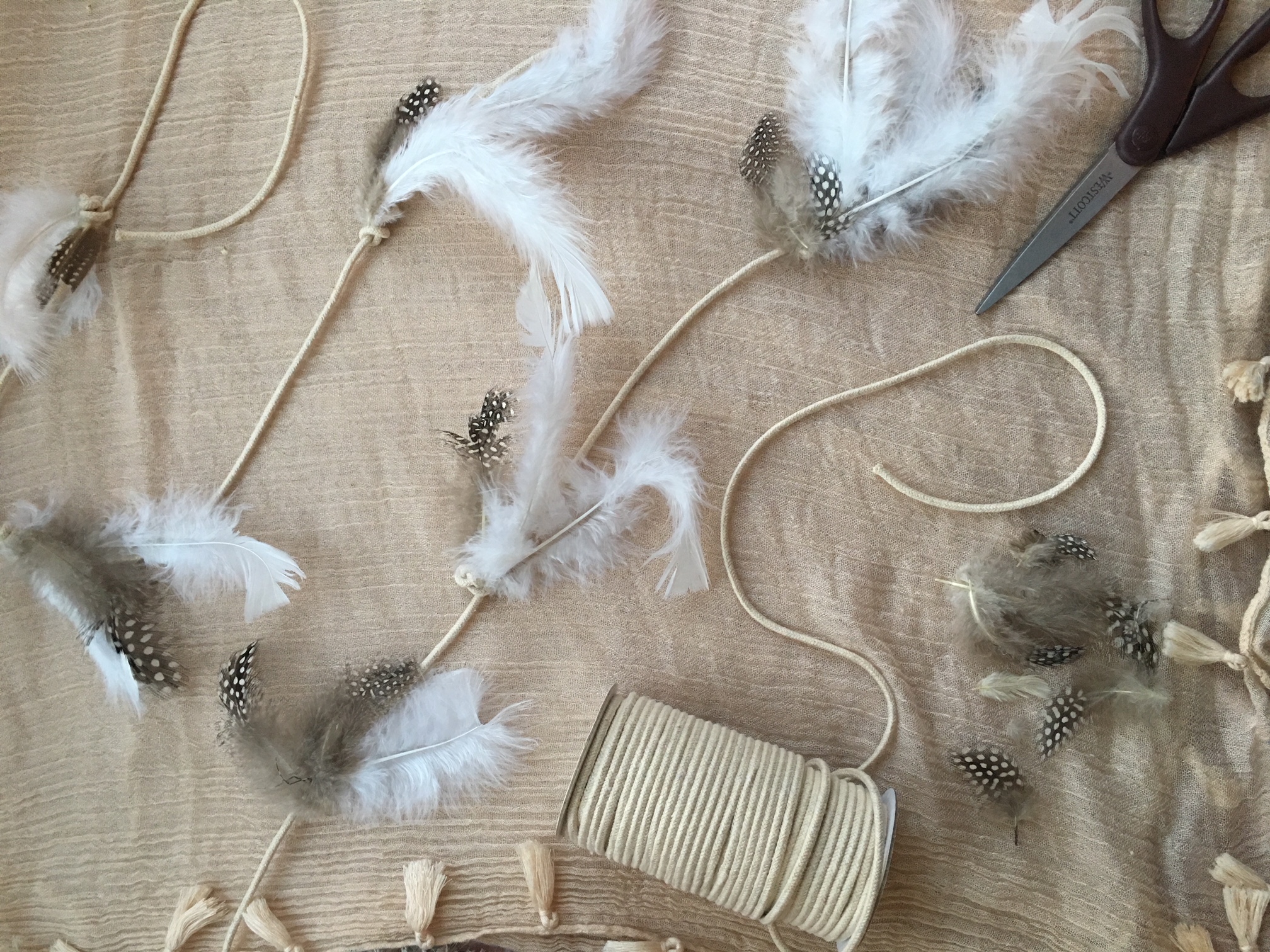 Directions:
Step one: Start by cutting a long piece of the clothesline and doubling it up. This should be the length of the table you will be using for your trail mix display. This will be the support for all the other strings you will attach.
Step two: Cut the remaining rope into long strands of various lengths to be secured onto this rope. These will be the pieces that hang down to create the backdrop.
Step three: Knot these long strands of rope in different places to secure the feathers. I found it was easier to hot glue the ends of the feathers and stick within the rope to secure. Adhere feathers in different directions to add depth. The best part about this project, is that there is no set way it should be done!
Step four: Once the glue has dried, knot these strands onto the main rope. Leaving some space between each strand… and Voila! The backdrop is complete
I completed the backdrop with a natural colored dreamcatcher I found at Homegoods for $20 and dried greens that I snagged from the park across the street… I know really on a budget! If you don't have a park across the street haha you can use any type of greenery with a long stem such as Myrtle or Eucalyptus (both pretty inexpensive foliage)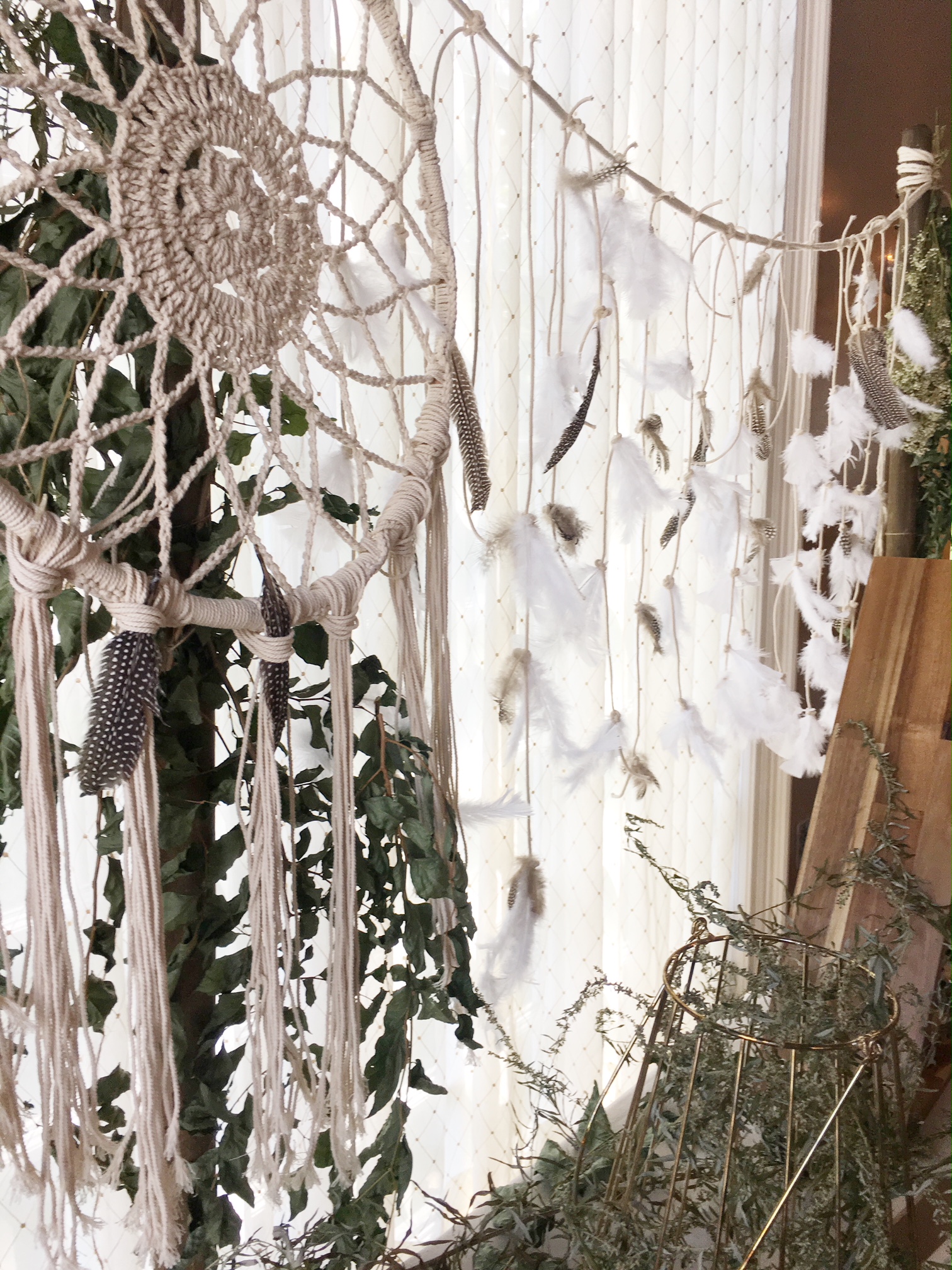 Trail Mix:
I decided to do a smores theme for the trail mix and kept the mix-ins as simple as possible to avoid a large cost. To keep in theme, I purchased "baby" pretzels, "baby" graham crackers aka a box of Golden Grahams, Teddy Grams, Chocolate Chips and Mini Marshmellows.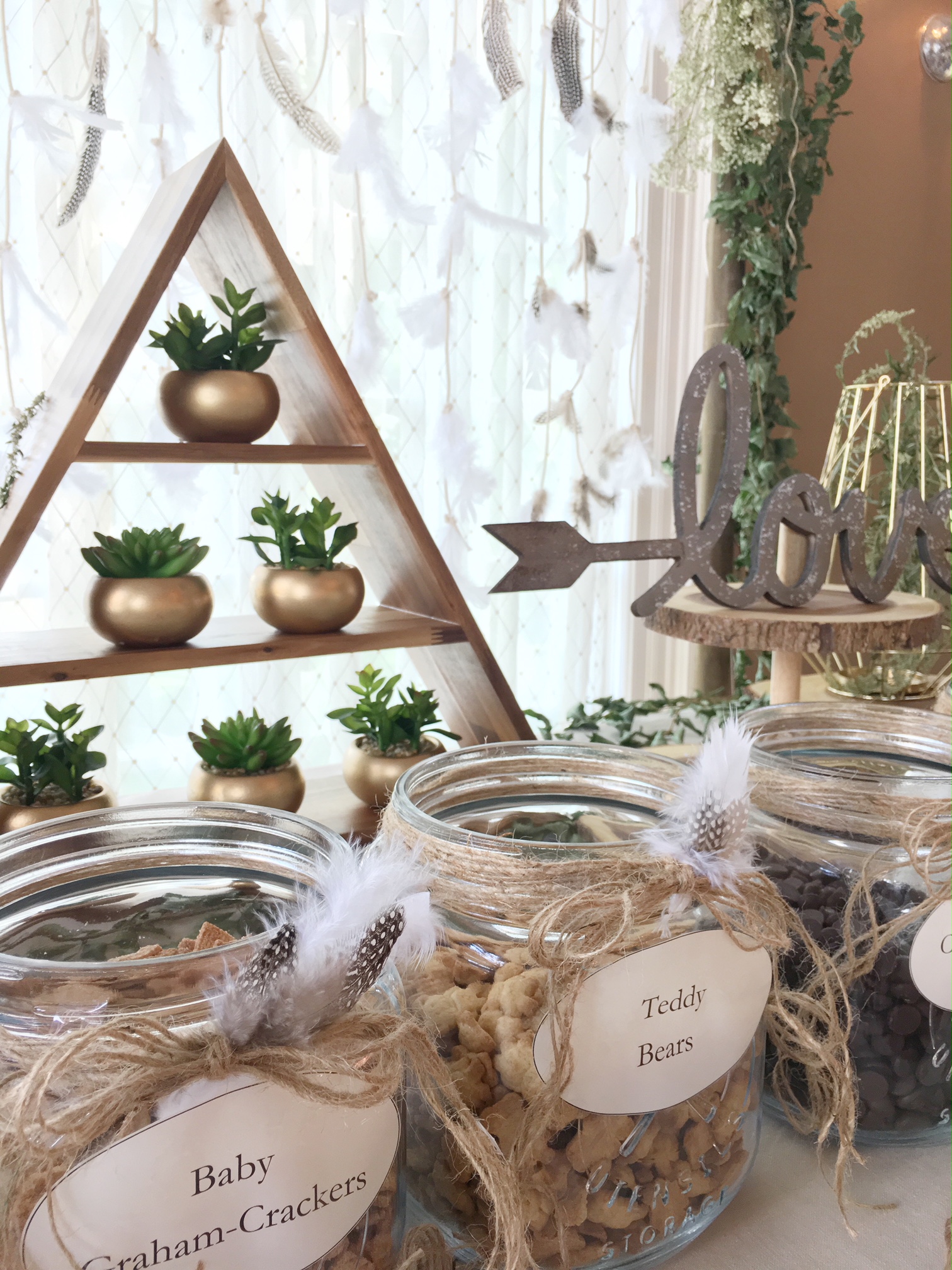 Glass Jars:
I found these adorable glass containers in World Market for $5.99 each! An added bonus is they are super helpful when organizing your kitchen after the party!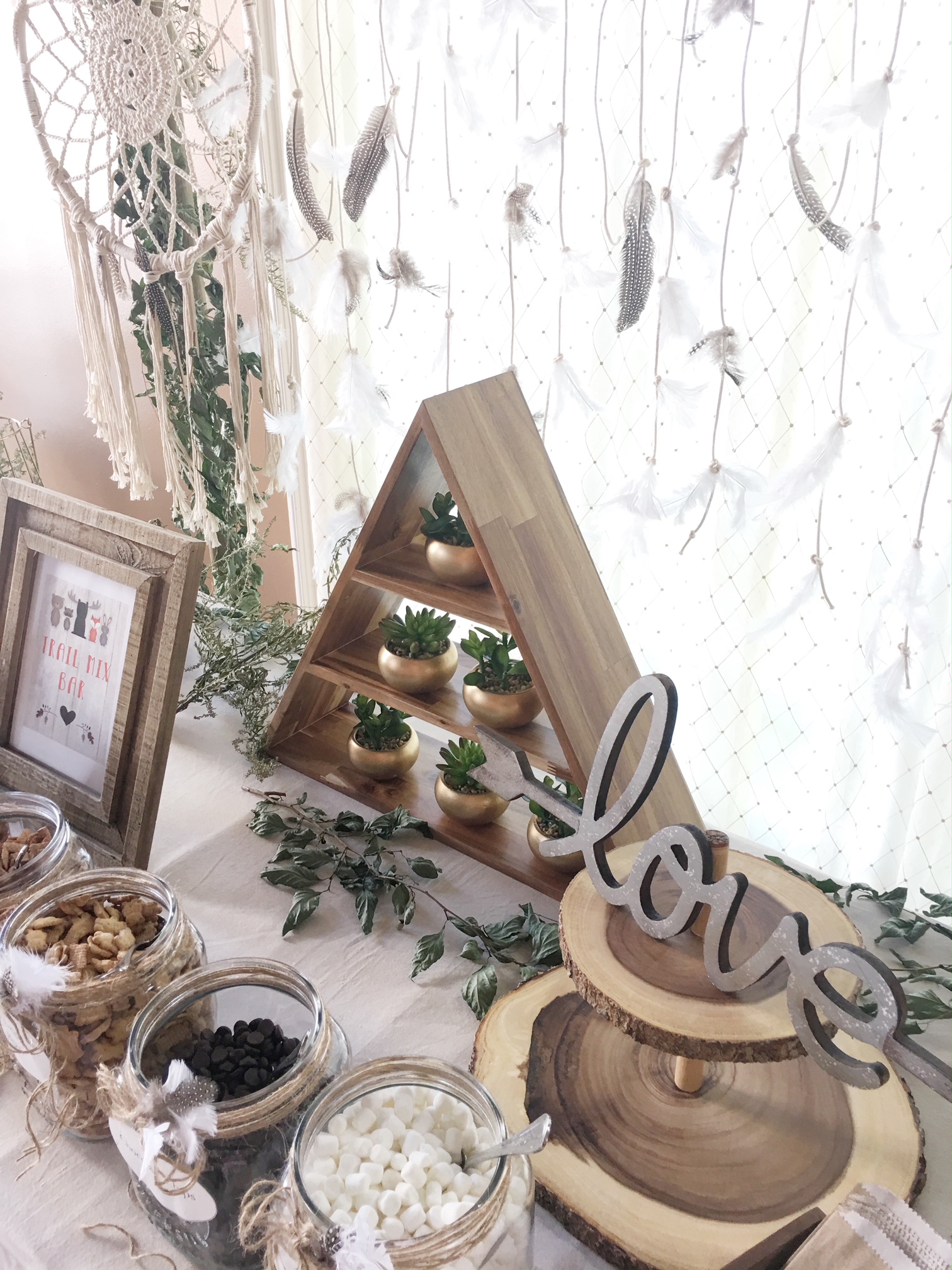 Décor:
I used this adorable rustic wall shelf I found at Homegoods for added height. This was the perfect way to incorporate greenery without purchasing a bunch of flowers. The rest of the table was decorated with wood slices and rustic frames, also purchased at Homegoods.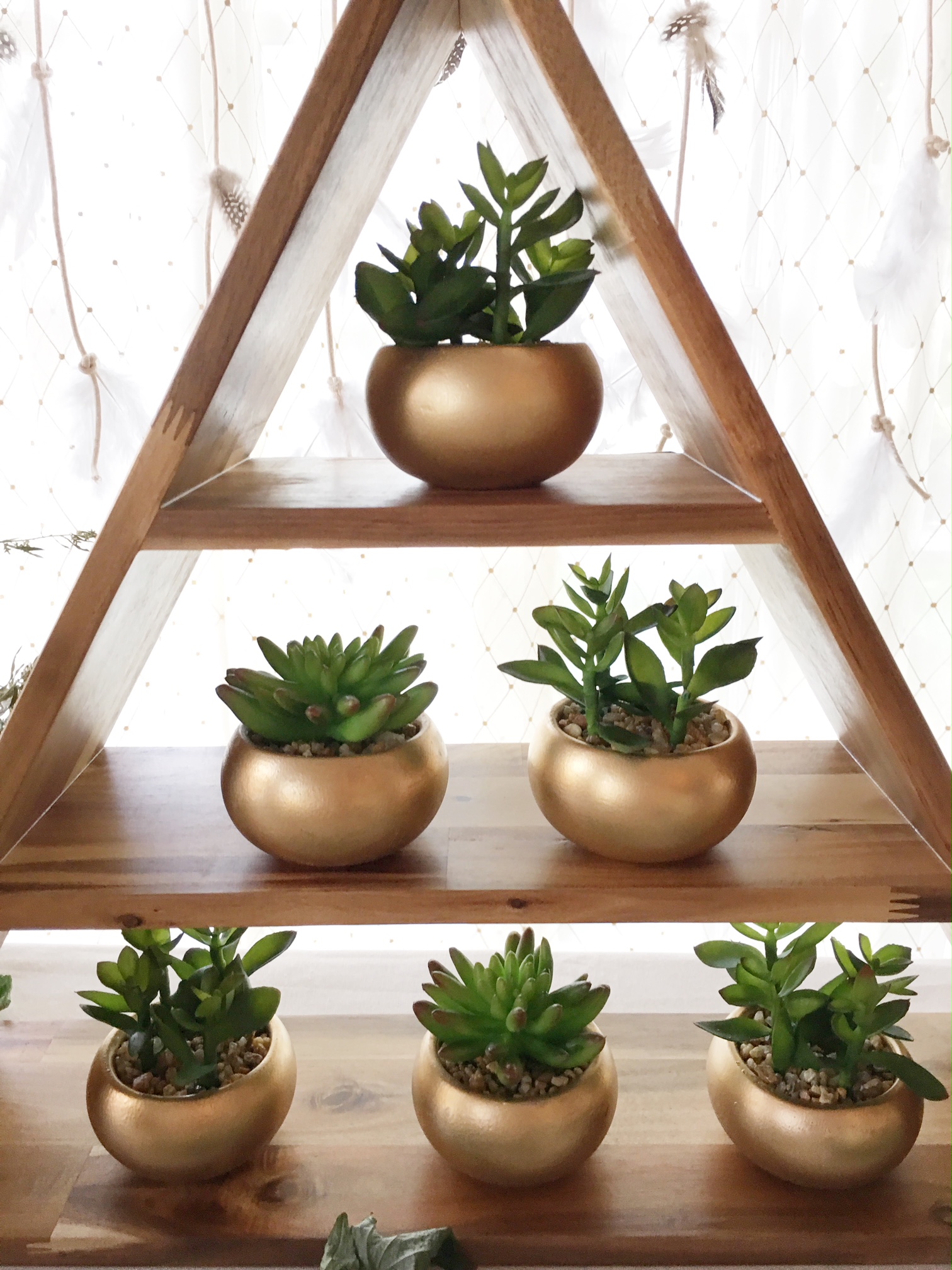 Printables: Etsy is always my best friend when it comes to anything I need customized. My favorite shop Details on Demand helped with the most adorable baby fox themed Trail Mix Bags. Check them out for whatever the occasion. She is always super friendly and very quick with the order! The banner and the woodland artwork as printed from a free source on Google.