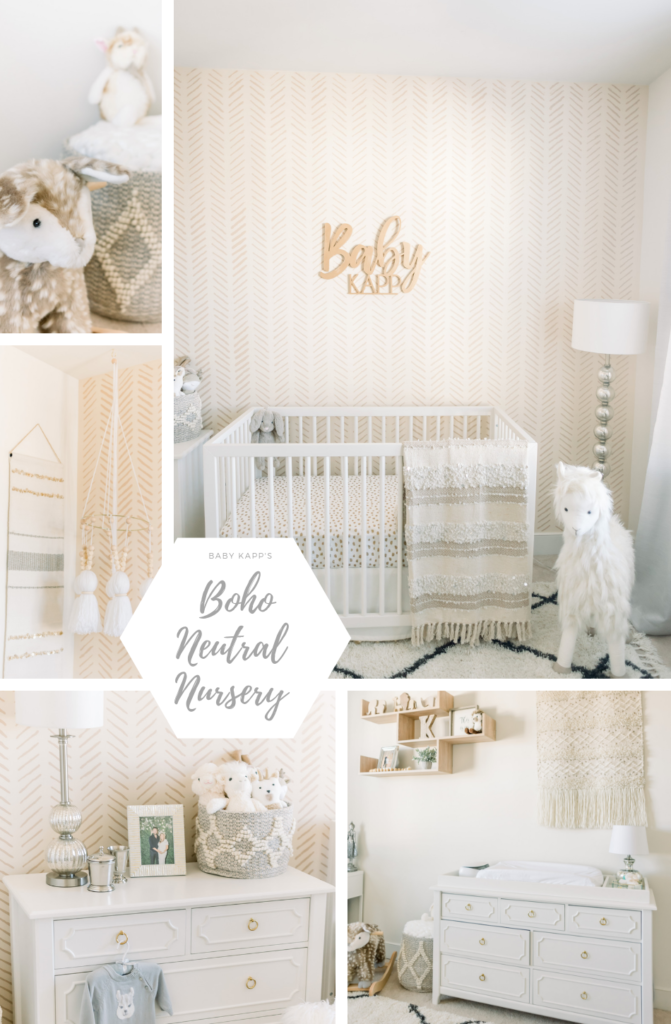 I am so excited to finally share with you my sweet baby boy's boho nursery!
After months of being pregnant and staring at a blank room, I finally decided on a neutral bohemian vibe for our little prince. I was never drawn to the traditional nursery designs and had a hard time with primary colors. Therefore, I knew this was the perfect way to create a space that was both calm and playful while maintaining my personal style.
To set the tone of the room I thought I would create a statement wall with a fun print and color. I explored the option of wallpaper, but wow is it expensive and just felt like way too large of a project when I was already 7 months pregnant. So, it was Cutting Edge Stencils to the rescue! I had tackled stencil painting prior to this and yes it takes a ton of patience, but it turned out so beautiful. I knew this was the best way to add a fun vibe into his room without spending a small fortune. My husband and I selected the Hand Drawn Chevron Wall Stencil. It took a while to line up the entire wall, but was not as challenging as some of the Moroccan designs on their website. It turned out so adorable and knew all of the natural and macramé details would go perfectly in the space.
Now onto the furniture! I never knew how expensive baby furniture was until we needed a changing table. I thought about purchasing an Ikea piece and converting it, but then I thought if we have another babe these pieces would be investments pieces. They would hopefully grow with each child and stay with them until they left for college. HA! Well maybe that was wishful thinking, but hey I still have one of my original dressers … so they better not be taking any crayons to these bad boys! We went with the Ava Regency Extra-Wide Dresser with the changing table topper and the Ava Regency Dresser which was a little smaller than the other. Both amazing amount of storage and worked great in the space.
Our crib was also from Pottery Barn Baby and wanted to go with a basic design in white. We loved the simplicity of the Marlow Convertible Crib and loved the fact it would grow with our babe.
The rug was probably our best finds of the entire room. A Safavieh Morrocan Fringe Shag Area Rug in cream and grey. It brought in a bold pattern to the room that made the overall feel more masculine. Something I know my husband was dying to see!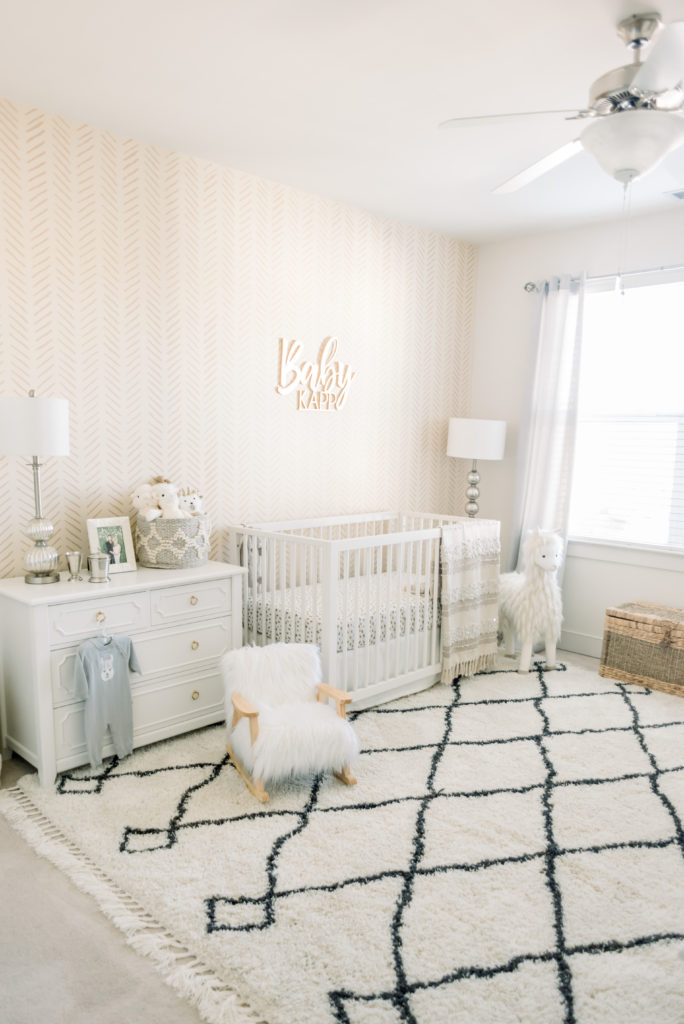 The rest of the nursery pieces were purchased separately as the room slowly took on a personality of its own. I have a tendency to overbuy, so I did my best with holding back and sticking to the basics. Of course, I added some fun personal touches and will continue to do so as our little boy grows. For now, I will hold onto my neutral vibe until the trucks and dino's take over!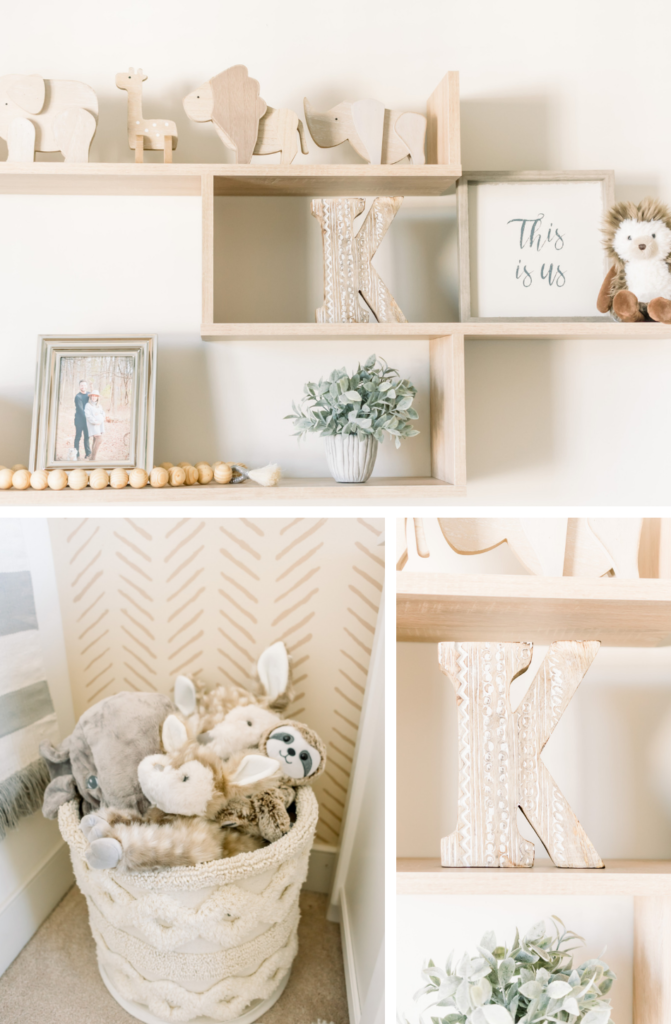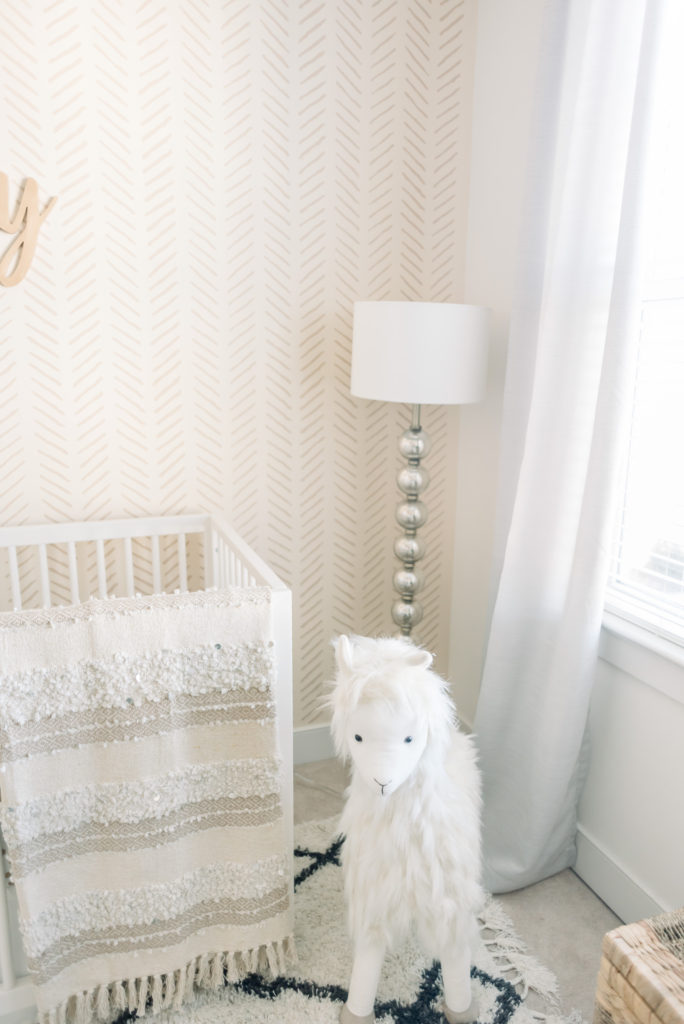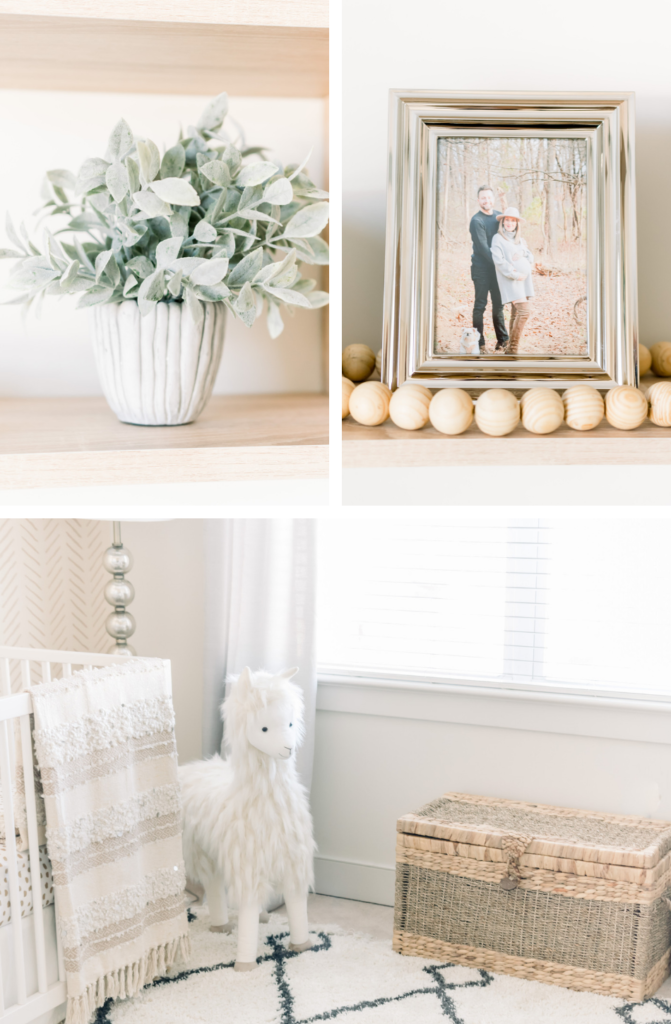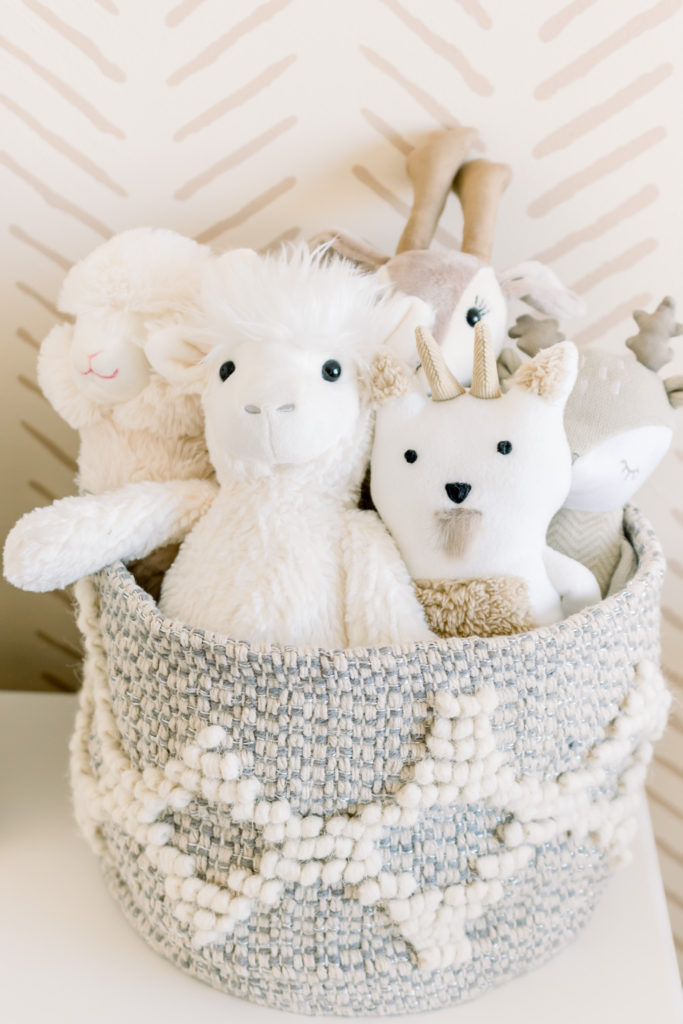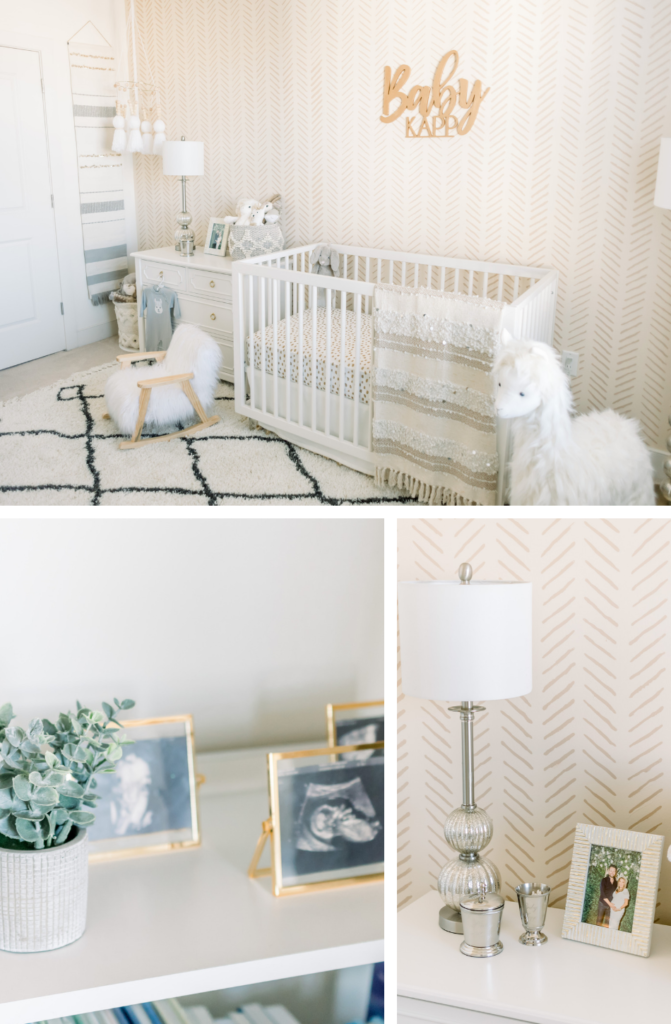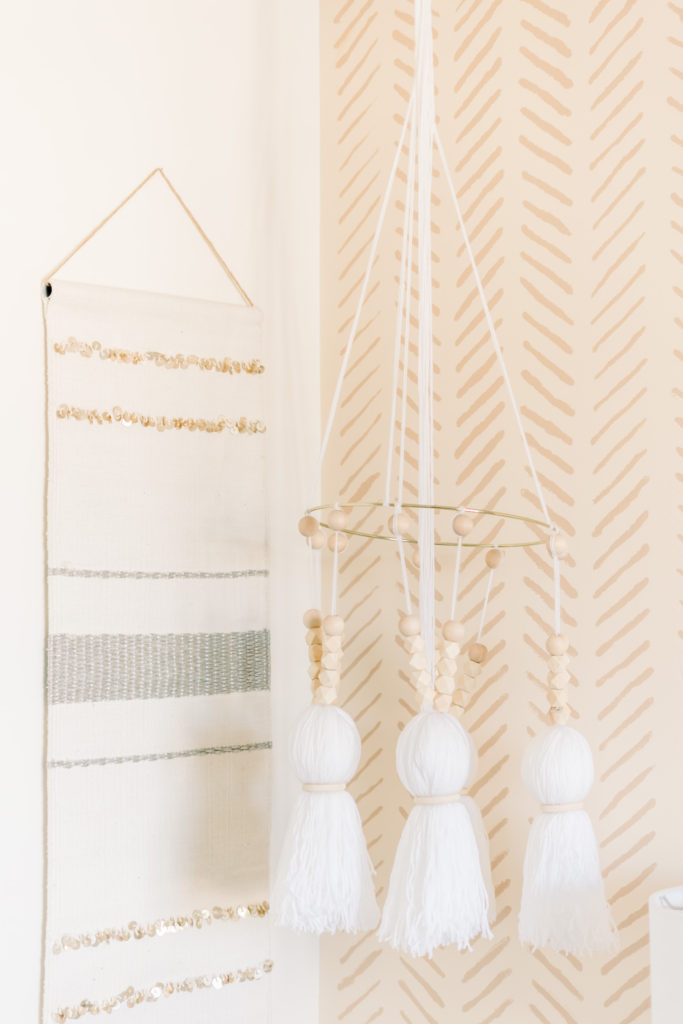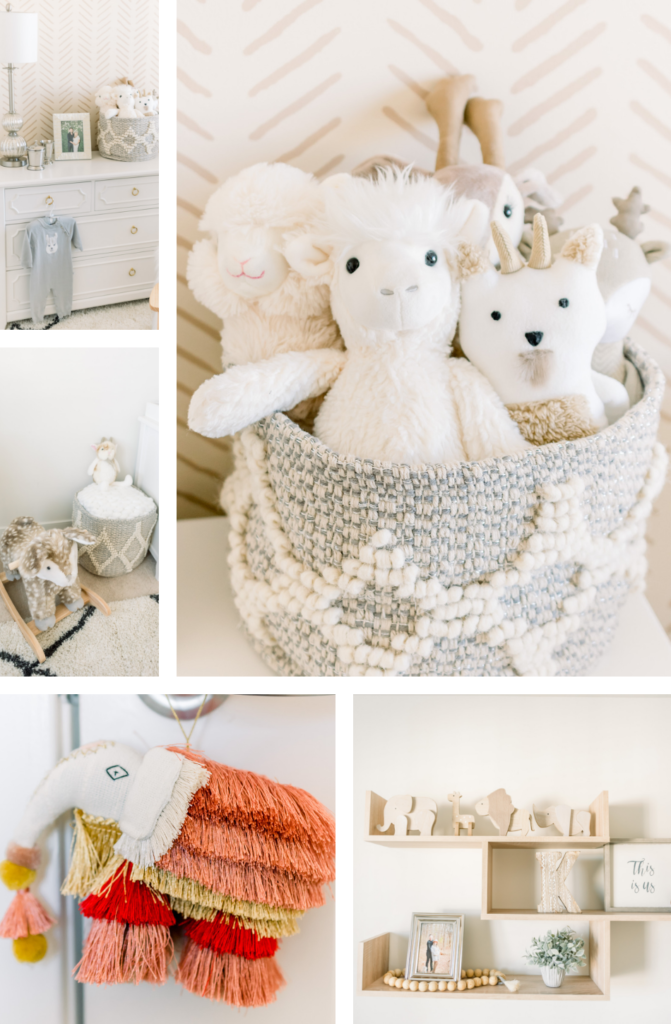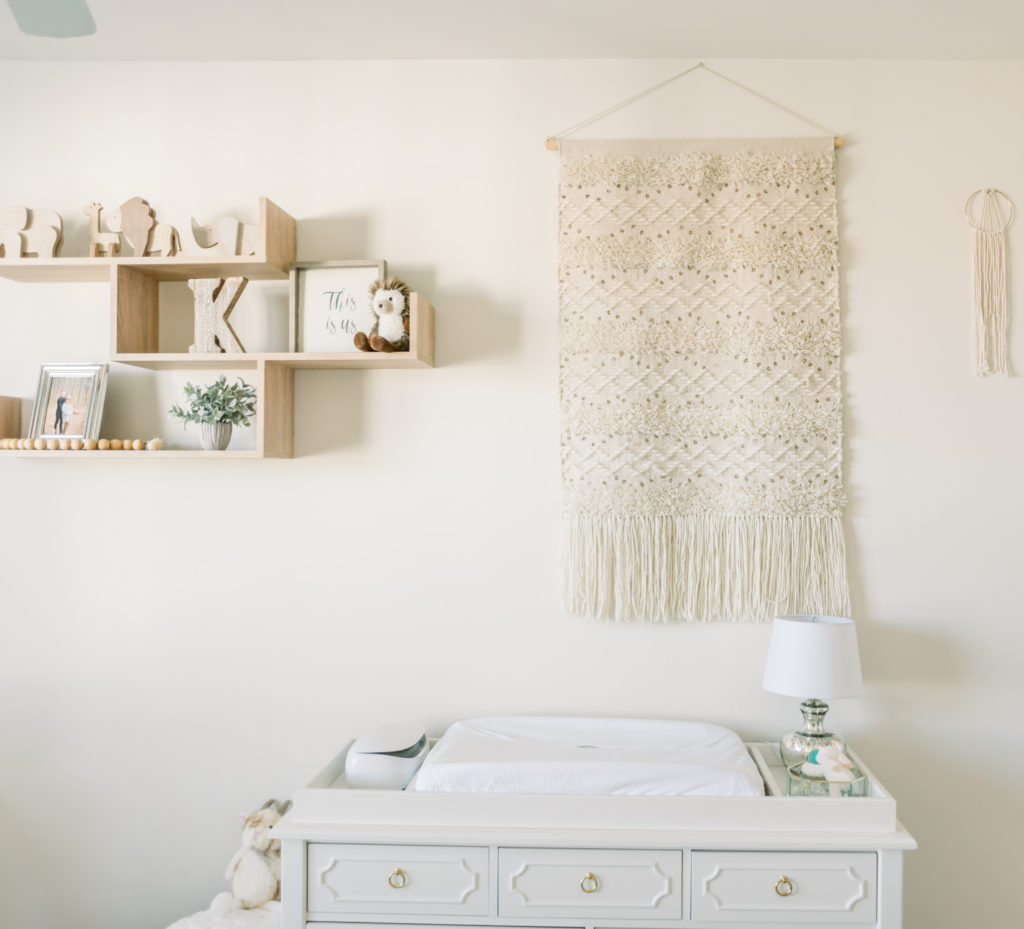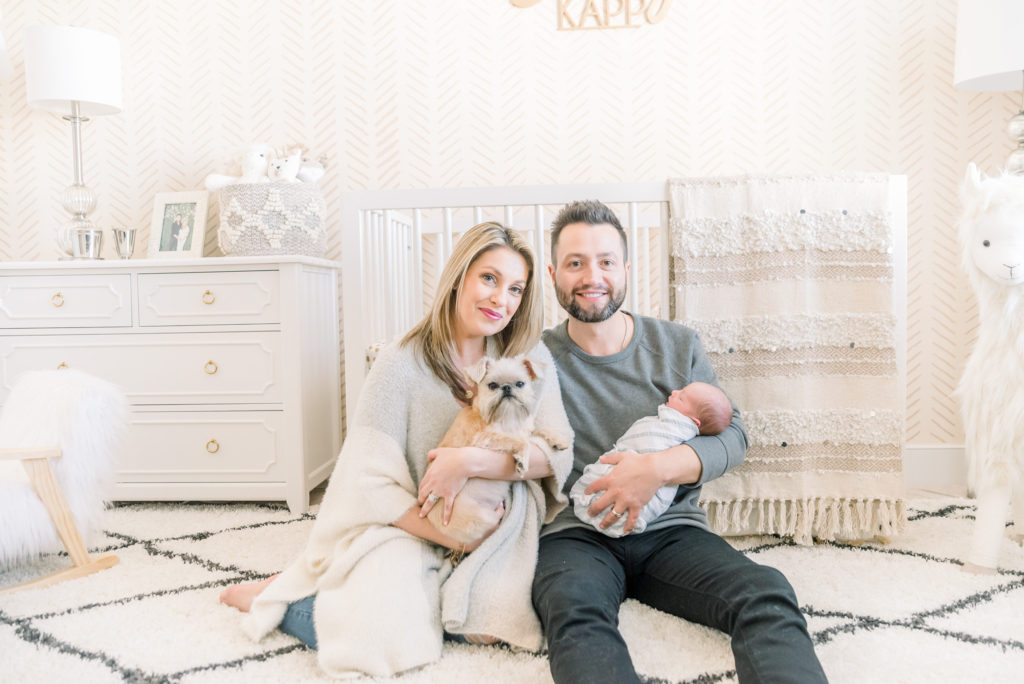 Here is an overview of all the nursery items pictured:
Custom Baby Kapp Sign by Paper Supply Station on Etsy
Moroccan Wedding Blanket – World Market
Standing Plush Llama – Pottery Barn Baby
Mercury Glass Stacked Ball Floor Lamp – Target
Organic Brushstroke Dot Fitted Crib Sheet – Pottery Barn Baby
Soothing Sounds Bunny On-The-Go – Pottery Barn Baby
Mongolian Faux Fur Wooden Baby Rocker – HomeGoods
Boho Wooden Beaded Mobile – Etsy (seller no longer available)
Boho Metallic Woven Wool Storage – Pottery Barn Kids
Fawn Nursery Rocker – Pottery Barn Kids
Sebastian Oak Wall Shelf – Pier 1
Woodland Plush Animals – Pottery Barn Kids
Macramé Wall Hanging – HomeGoods
Please let me know if I forgot to note any items pictured above.
OX Danielle