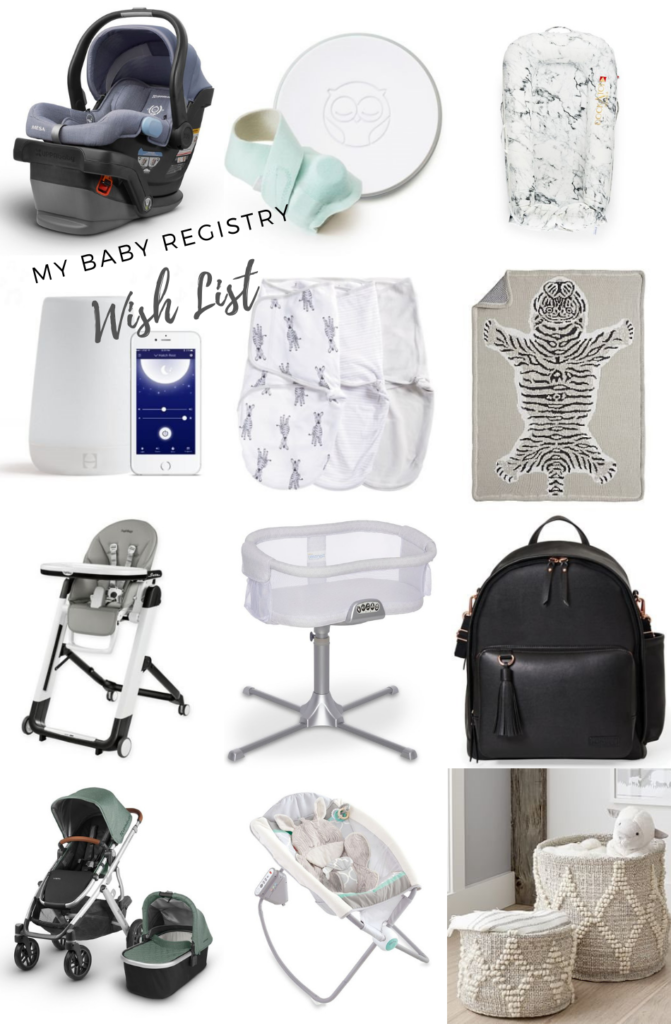 First and foremost, I would like to start this post off by saying I'm in no way shape or form a baby expert! Actually, I am the furthest thing from it. I am an only child that never changed a diaper or held a baby until my very own! Therefore, I was so lost when trying to put my registry together and was so overwhelmed.
What do these little babies need and for what reason? Why are there so many gadgets that do the exact same thing? When I showed my husband all of the things we needed, he really made me laugh. He couldn't understand why had to register for three different items for our baby to sleep in when they all served the same purpose… SLEEP! I honestly didn't know how to answer him and simply said "but that's what's on the check list". I needed some guidance and I needed it fast!
So, it was my best mommy friends to the rescue. Luckily, I am surrounded by the most amazing moms that have done this not only once, but twice! They helped me to create a list of all the gear they loved and couldn't live without. I thought this was the best way to narrow down all the nonsense and really register for the good stuff.
So here is the list of items that were on the top of my registry. I luckily received them all and plan to do a follow up once Kai is a few months old. I can only hope this list helps to guide any new moms-to-be out there and calms any nerves I know I was feeling during this process.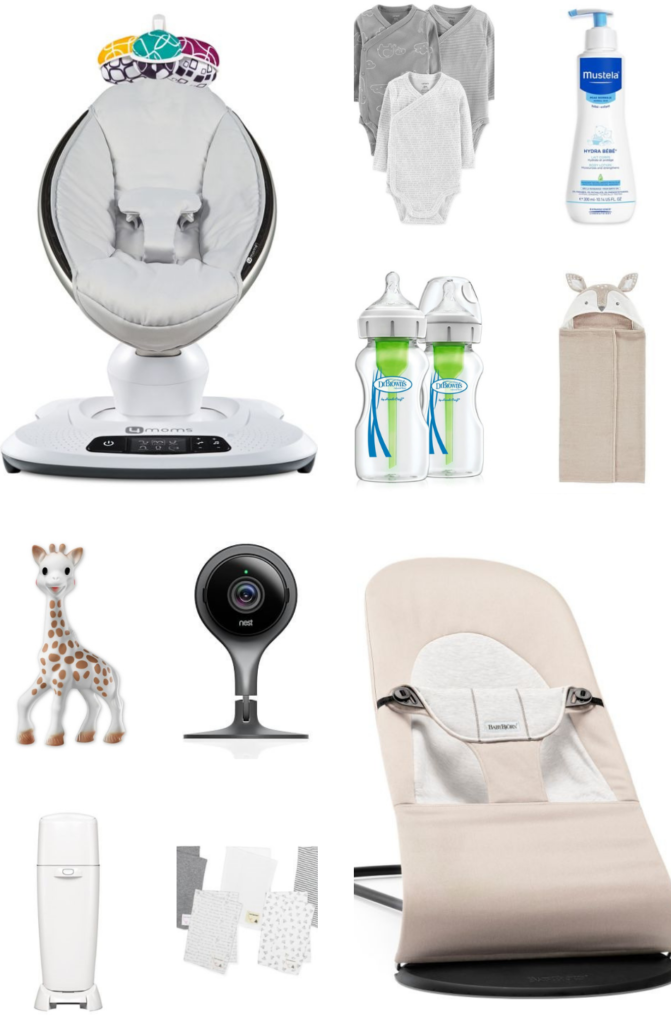 So lets get started!
MESA Car Seat – I knew I wanted to go with the Vista UPPAbaby stroller and found this was one of the safest options and highest rated car seat that fit with this stroller. Plus, every one of my friends had sworn by it. The only immediate feedback I can give is that it's HEAVY! I'm not sure what other one to compare it to, but I do know my arms will be getting a full workout.
Owlet Smart Sock 2 Baby Monitor – Being a very paranoid first-time mom I knew I was going to have trouble sleeping at night. I just imagined myself staring at him to be sure he was breathing. Therefore, this product seemed like it would be a lifesaver. Some friends said it would make me more paranoid, but I thought if this even helped me to sleep 50% better at night it was worth it.
DockATot – At first, I was very confused as to why I needed a $190 pillow for this babe to sleep in and couldn't understand its purpose. I knew I was not going to co-sleep with Kai, but heard it was great for naps and to transition into their crib. All of my Mommy friends said this is a MUST!
Hatch Baby Night Light – A night light and sound machine with an option to control it by your phone. Its small and sleek and will not interfere with the other décor of the room. There is also a cute option to set as your child gets older with an Ok-To-Wake option, which tells your child when its ok to start the day. That's a huge win for mom and dad and I'm in!
Aden by Aden + Anais Newborn Swaddles in Zebra Adventure Set – The easiest way to swaddle your newborn with velcro tabs and zips around the bottom for easy diaper changes. Plus, those cute little zebra faces!
The Emily & Meritt Go Get Em'Tiger Baby Blanket, Pottery Barn – I mean just because it's the cutest thing ever and my husband was not into purchasing anything leopard for our son. So, the next best thing was this adorable tiger blanket for the stroller or to place on the crib in his nursery.
Peg Perego Siesta High Chair in Ice – I loved the modern design of this chair and how it grows with your child. From newborns to toddlers it has multiple height positions and a removable tray to allow your child to sit at the table. Plus, the seat looked pretty easy to clean.
HALO Bassinest Premiere Series Swivel Sleeper in River Stone – Lots of my friends said their babies either loved or hated this bassinet. Again, with nothing to compare it to, I went solely on reviews and design. There were lots of positive reviews online and many that said their child would only sleep within this bassinet. The design was great with see-through sides and a swivel that rotates in a full circle for close bedside sleeping was a plus in my book.
Skip Hop Greenwich Simply Chic Diaper Backpack – With so many options out there, you will go nuts! I wanted a simple bag with easy access to all of the baby gear. I tend to overpack my purse, so I knew I would do the same with a huge duffle. This backpack easily attaches to a stroller with pockets that all make sense. A little heavy, but I will have to see how I like it and circle back with a real review.
UPPAbaby VISTA – This was probably the only baby item I knew I had to have! Every day I would see the streets of NYC lined with these bad boys and my friends highly recommend this stroller. I knew there was something this brand was doing right. Yes, the price tag is a bit high, but I knew I would be using this every day and it would be worth it. Also, the bassinet attachment is a great feature and could be used separately for overnights and weekend getaways.
Fisher-Price Newborn Auto Rock 'n Play Sleeper in Safari Dreams- Out of everything on this list, this came in as the most recommended item. So many said their baby couldn't get enough of this for nap time or throughout the night. It rocks on its own and has a sound machine for soothing sleep.
Metallic Woven Wool Storage, Pottery Barn – With so many blankets and little trinkets we already had for Kai, I knew I needed a ton of easy storage and these boho organizers were it! I got the small size for some of his stuffed animals and the large one for blankets. They already look so darn cute in his nursery.
4moms mamRoo 4 Plush Infant Seat – I wasn't into the huge swings mostly because we just do not have the space. However, I knew lots of moms loved the option to place baby in a swing while cooking or cleaning around the house. Therefore, I went with the 4Moms swing mostly due to the modern design and the fact it rocks and sways in so many directions. Can't wait to see what the KangaRoo option looks like with baby Kai.
Baby Carter's 3-Pack Side-Snap Bodysuits – An easy alternative to the usual over the head onesies. Plus, they look pretty cute!
Mustela Products – I received a sample size of the Mustela lotion during my baby prep and loved the smell of it! Not only is this brand hypoallergenic but does not include parabens, phthalates or any other questionable ingredients. They have so many different products to choose from. I am obsessed.
Dr. Brown's Baby Bottles – Ok I have to admit, this is where you really lost me. How the heck do I know what bottle my babe will want? I knew I was going to attempt to breastfeed, but wasn't sure how that would go. So, for backup I wanted a bottle that moms recommended. The overwhelming response was the Dr. Brown's bottles specially to reduce colic, spit-ups and gas.
Fawn Nursery Bath Wrap, Pottery Barn– Just because this is too darn cute and couldn't resist this towel for those cute bath photos. I plan to break these out when he is 17 and graduating from high school for the yearbook.
Sophie la girafe – From what I gather, a baby isn't a baby until they have a Sophie.
Nest Cam– We have this system throughout our home and just found it an easy transition to add this camera into our nursery. I am not sure if I will also use a baby monitor and have this just be a camera in the nursery. I will have to see how paranoid I become once this babe is ready to be in the crib when he is 15 years old hahaha. I'm kidding people.
BabyBJORN Bouncer Balance Soft in Khaki/Beige – A great way to sit your baby up when taking a shower, cooking or running around the house doing the hundreds of loads of laundry. Some of my mom friends also recommended this is a great aid to babies with reflux.
Playtex Diaper Genie – For one main reason alone and that's to avoid a stinky home! The design of this one is slim and not as in your face as some of the others. Naturally I'll be registering for the white one.
Burt's Bees Organic Baby Burp Cloths Set of 5 – Loved all of the Burt's Bees Baby products and the number one item my best friend moms recommended was burp cloths and more burp cloths! Loved the grey design and stocked up on a few packs of these to keep all through the house.
I used MyRegistry.com to put together our baby registry and it was the best decision for us because you have the ability to pull items from any site you choose. I have the majority of my items from Buy Buy Baby, but the other percentage was from Pottery Barn Baby, Amazon and Etsy. It was very user friendly and it even helped us to keep track of who was purchasing what for thank you notes.
I hope this list helps you to organize your thoughts and to work through what you like and what you don't. I will be following up to this post in a month or so and will spill all of the details on what worked and what did not.
OX Danielle