Thanksgiving is all about getting together with family and friends and of course sharing a good meal! However, it can get a little stale when breaking out the same décor year after year. Let's face it the ceramic turkey boat has overstayed his welcome and its time to put your hostessing skills on display.
Adding some new pieces to your tablescape is not only easy to do but won't break the bank. There is no need to replace every single piece and plate. Just add a few of these stylish items to your spread and your guests will be wondering just how much you really did spend on this years dinner! It's all about selecting key pieces that will steal the show.
So, let's toss the plastic goods and let's tap into glamming up your table scape in a few simple steps.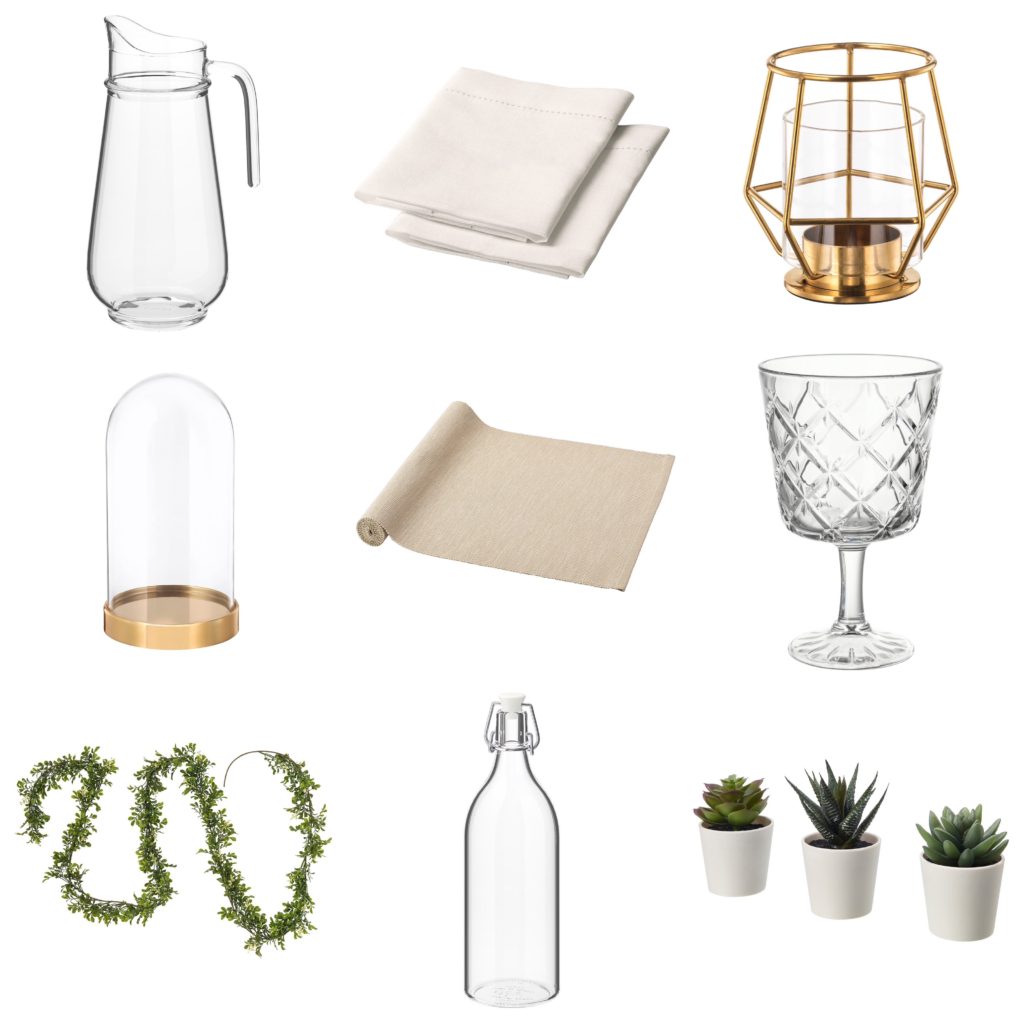 Tillbringare glass pitcher, 57oz $4.99
One of the biggest distractions on a table is no doubt large plastic bottles. Not only is it a distraction, but its also a huge pet peeve of mine. It ruins the look of any tablescape + are always hard to handle. The easiest way to serve out beverages is with a handle! These pitchers blend in with the rest of the table and trick guests into thinking you put way more work into the dinner than you really did. Serve up some store-bought iced tea with fresh lemons or mint and it will take dining to the next level.
Gullmaj napkin lace white, $4.99 2 pack
"Ooohhh, fancy!" is what your guests will be saying as they unfold their cloth napkin to place into their laps. Not sure why this little square cloth brings dining to the next level, but it does! It's possibly one of the simplest ways to amp your table up and with a bargain of a deal for a pack of 2, it's a MUST! So, ditch the ripped paper towels you were trying to fold nicely and tuck a linen napkin under your silverware for the ultimate upgrade. Bonus, you can use them for every holiday thereafter. Boom!
Parlband tealight holder, 4" $5.99
These little gems steal the show. Even though they only stand 4' tall, they do enough work to make the table pop. I am a firm believer in less is more. Some believe the more they stack onto a table, the better it looks. Possibly for some wedding designers out there that does work, but for Thanksgiving it's a no! Group (3) of these to a 6' table or (4) to an 8' table with a decorative runner, some greenery and a few inexpensive flowers and voila. A tabletop pulled from the West Elm catalog in only a few simple steps. The best part of these is you can leave out all year long for a fun geometric element to your coffee table.
Begavning Glass Dome with base 7", $9.99
A new and creative way of styling your flowers. These adorable glass domes are small enough fit on your table without the fuss, but large enough to style a sweet bundle of flowers. Pair with a tiny bud vase or style a group of dried flowers for a new take on a vase. I am also a huge lover of crystals and these domes serve as a great way to put your amethyst pieces to work. Another great piece to transition into the holidays.
Marit table runner in a natural tone, $4.99
Swap out the long formal tablecloth with a slim neutral table runner. Yes, you might need two of these to run across the entire table, but at $4.99 each its still a steal! I am all for table clothes, but they capture every spill and dirty finger. Table runners allow you to keep the table clean throughout each course for half the price. Love this natural toned one for Thanksgiving and so easy to store.
Flimra Goblet, clear glass, 8oz. $2.99
Yes, this is a wine glass, but why not think outside the box with your glassware. These beauties not only look like expensive china but are the perfect serving size for so many things. Use these for individual hors d'oeuvres like shrimp cocktail, lemon hummus + crudité or mini strawberries + cream dessert cups. So fun to serve and small enough to not clutter the table.
Vinterfest artificial garland, indoor/outdoor box $9.99
As many of my followers know, I am not a fan of faux flowers or greens of any type. I feel real flowers and greens are cheap enough to secure and many faux options are just not pretty. However, this garland makes the cut as an exception. It is the easiest way to soften up a table without having to keep anything in water. I would suggest using at least two strands of these mixed in the with the gold elements and white mini pumpkins. Together this creates a beautiful runner slim enough to still place dishes and glassware around it without taking up too much room.
Korken Bottle with Stopper, $2.99 34oz
The prettiest way to offer water without ever having to see a plastic bottle. Prep a few of these ahead of time in your fridge and refill once you see your guests moving through them. These bottles are also perfect for your oil and vinegar or infused vodkas! Extra bonus – use them at breakfast the following morning for freshly squeezed OJ.
Fejka Artificial potted plant 3 pack, $4.99
An Ikea item that sells out quickly! Mostly due to their perfect pocket size for events. These little succulent faux plants are perfect for place cards. Tie a simple little tag on each with your guest's name on them and leave the other side of the tag blank. Once you have all your guests at the table, pass around mini pencils and give them an opportunity to note what they are most thankful for. You can send these homes with each guest to display in their home or office.
Hope these help to dress up your table this holiday and also stay under budget for a few extra bottles of wine! Happy Decorating!
-OX Danielle