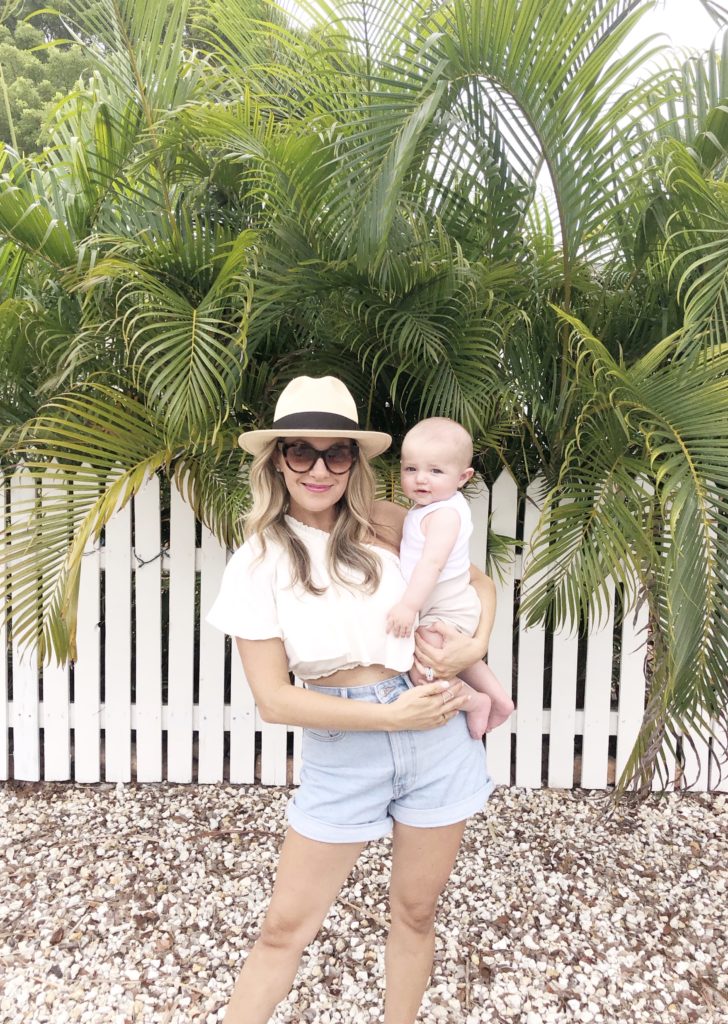 Our first family vacation was well…an experience!
I would love to tell you that it was all fun in the sun with our new babe, but WOW was it a ton of work. Honestly, I thought I was going to die of exhaustion our first day and was never so happy to get to bed (yes such an old comment … but it was true). It was just a long day of traveling and stressful settling into our hotel, all while dealing with a 6-month-old.
Weeks before our trip I tried my hardest to create a checklist based off friends recommendations as well as all my favorite mommy blogs. It seemed like this list did not end and was way too much stuff to pack for only a few days. However, I soon found out babies need a lot of gear and when I say a lot, I mean two suitcases and two carry-on's later. We were only going to the Florida Keys, but I know how fussy this kid can get especially with his hard to find formula and did not want to take a chance. So, because of this new anxiety I have developed as a mom, I packed it ALL!
Now that I am looking back, I think it's safe to say I definitely over packed for this trip. I now feel so much better about traveling with Kai and want to share with you all of the things we absolutely needed and the few we did not. I have also included a few notes about items I wish we would have brought.
Just remember, once you can get all of these items to your destination you will have a HAPPY baby! The last thing you need is an UNHAPPY baby ruining your trip because of something silly you decided to leave at home. Trust me its just not worth it!
*Disclaimer: I am in no way a Mommy professional and this is completely my experience to share with you. Do what you please with this or laugh at how ridiculous I am… one or the other thank you for checking it out 😊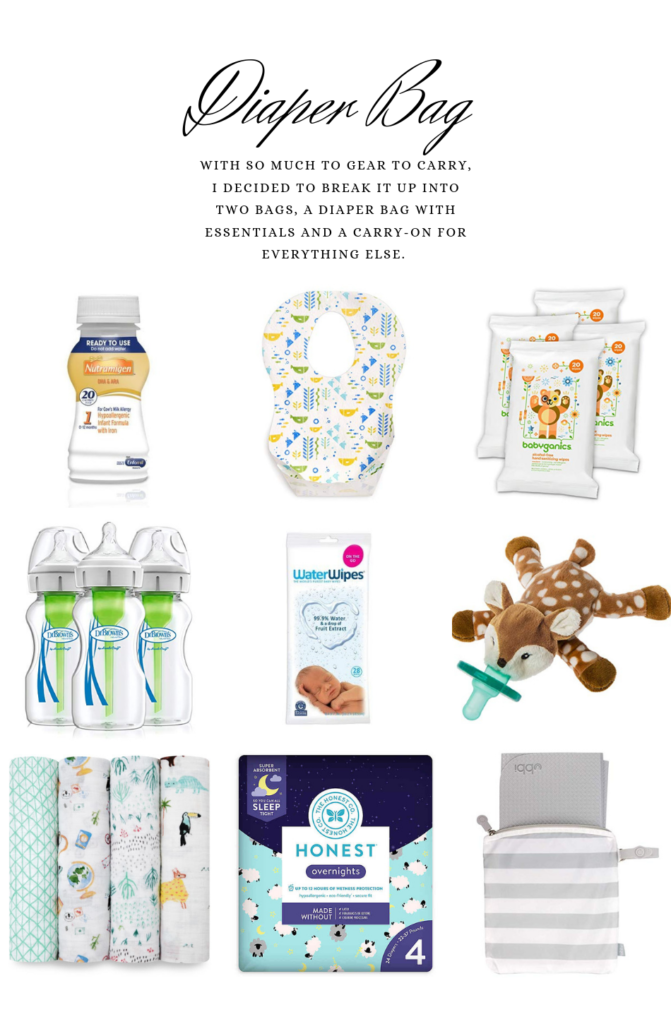 **FYI – If traveling by plane, TSA allows you to bring reasonable quantities through the security checkpoint. Just remove them from your carry on when going through and they will scan them separately.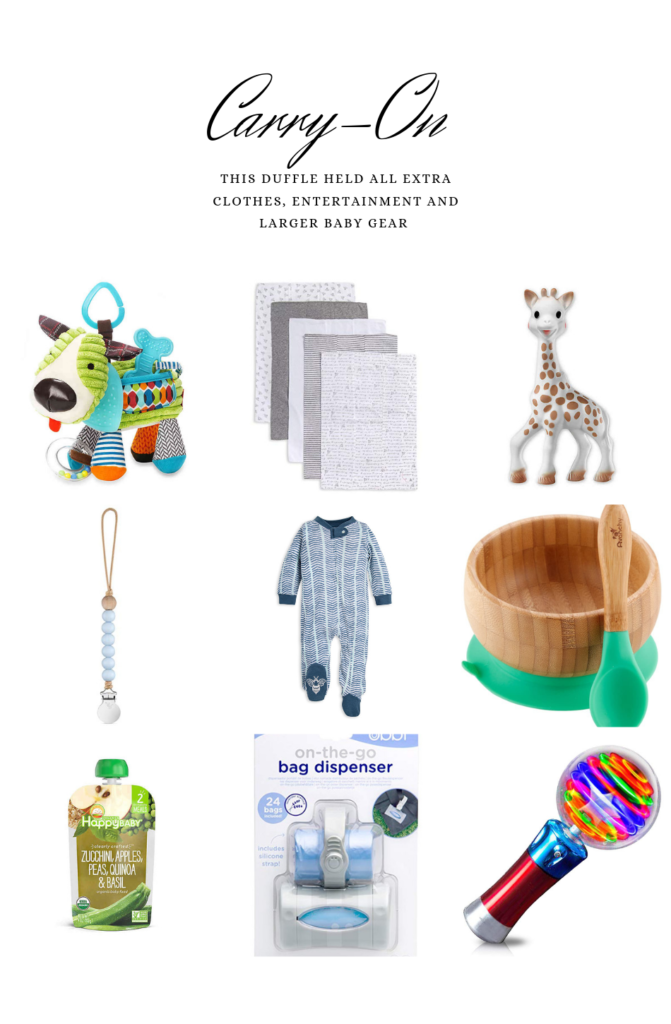 Skip Hop Bandana Buddies Toy, Puppy – Adorable toy that Kai is very entertained by with a rattle, mirror and teether .
Burt's Bees Baby Burp Cloths – Due to a teething and acid reflux baby, we go through a ton and these always came in handy when on the go.
Sophie la Girafe Teether – is currently our best friend.
Ryan and Rose Pacifier Clip– Love this for our WubbaNub Fawn and his smaller toys.
Burt's Bees Baby Pajamas– Kai hates pants or anything that restricts his belly. Therefore, we love the soft organic cotton zip up pajamas. We brought (2) pairs with us on the plane.
AVANCHY Bamboo Travel bowl and spoon– Yes this option is a little heavy and there are lighter options out there, but I love the fact these are made of bamboo and nothing toxic is leaking through with the cheap plastic ones.
Happy Baby Organic Baby Food Pouches – I estimated about (3) a day and only brought what we needed for the duration of the plane with us. However, I would highly recommend against that! On the way home we were delayed three hours and had went through our pouches so quickly and never planned for anything longer. I sweat it out for a bit, but Kai was happy with his formula.
Ubbi On-the-Go Bag Dispenser – Such a lifesaver when you want to avoid the embarrassment of a stinky diaper or a yucky spit up. Toss in and toss out! We have also used puppy poop bags when we forgot the others at home.
ArtCreativity Light Up Ball – Ok, not safe for babies to play with on their own, but when he gets super fussy, we just hold this up for him to look at and he is mesmerized. He instantly stops crying and keeps him occupied for a few minutes.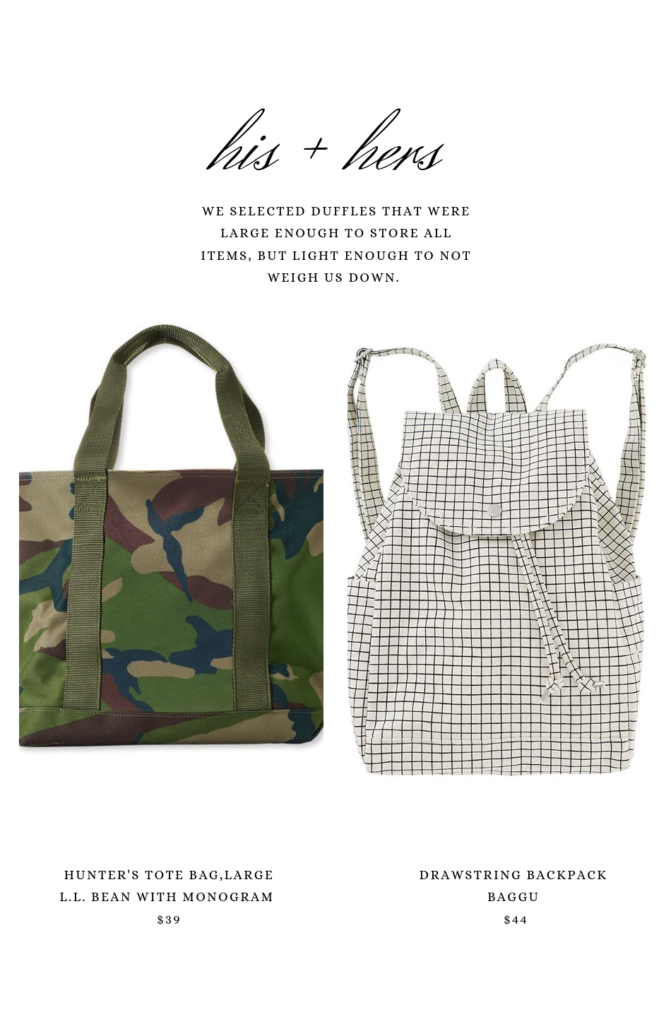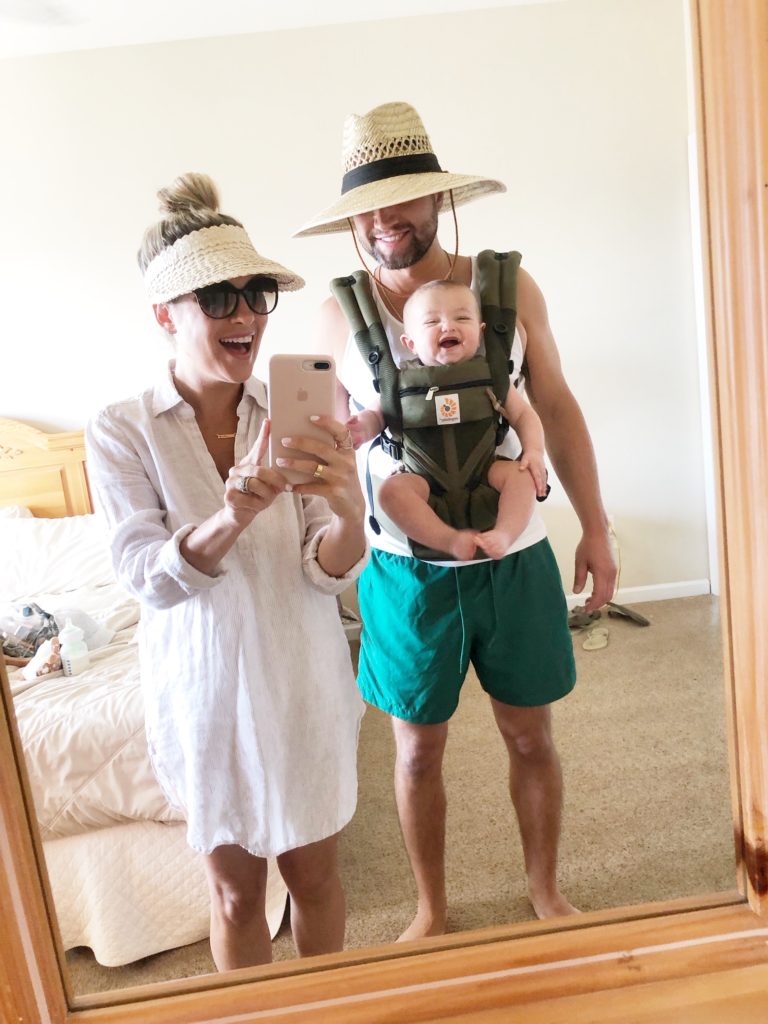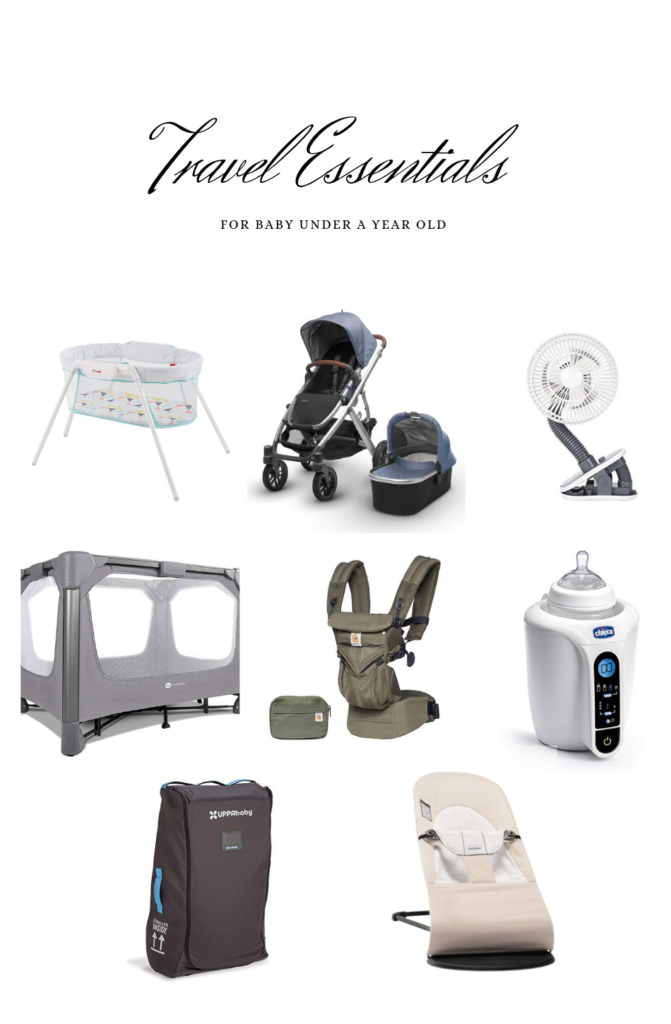 Fisher-Price Stow 'N Go Bassinet with Travel Bag Set – This one was a bit personal and not sure if it would work for everyone. Kai was in a bassinet for a while and when we went to Key West, we were just in the process of transitioning him into his crib. Therefore, I felt most comfortable placing him in an atmosphere he knew. The hotel gave us an option ahead of time of a pack and play, but he had never been in one before so felt like we were setting ourselves up for restless nights. This was a bit bulky, but it folded up nicely and fit into a travel bag (comes with) to carry over your shoulder. For us, it was the best option!
4moms Breeze Plus Playard – Would not recommend bringing this with you if you are flying, but if you are traveling locally or within a car it's the best! It's a little heavy but is so simple to set up and break down. We did not use the bassinet top part but did use the changing side. Kai now sits up on his own so we have this set up within our home on the regular. It has turned into his mini playroom hahaha.
Ergobaby Omni 360 Cool Air Mesh Baby Carrier – Two words: Life and Saver. I never thought I would be that Mom with a baby dangling from my chest, but now I totally get it. This was a dream when we were trying to navigate through the airport with luggage and boarding onto the plane. Also, it was a breeze carrying him when we were taking the long walks down to the beach with chairs. Kai actually loves this and now use it regularly. I highly recommend it!
Chicco Naturalfit Digital Bottle Warmer in White – My child is a diva and needs every bottle and food a certain temperature. Yes, we have created a monster, but so much of it has to do with his digestive system. He just does better when things are warmed up, resulting in no mess and happy parents. A little pricey and a little bulky, but it does its job and we could have never survived without it.
UPPAbaby VISTA Travel Bag – Sold separately from the VISTA, but worth the price if you travel often. Easy to close zipper and has wheels for transporting. Put it on your registry and thank me later.
BABYBJORN Bouncer Balance Soft in Beige/Grey – Hands down one of my favorite baby items ever! We brought this with us for feedings and for the beach. He loves it and it is easy for his to fall asleep in it as well because it reclines. Folds in half, but still pretty big but so worth to travel with because he used it so much.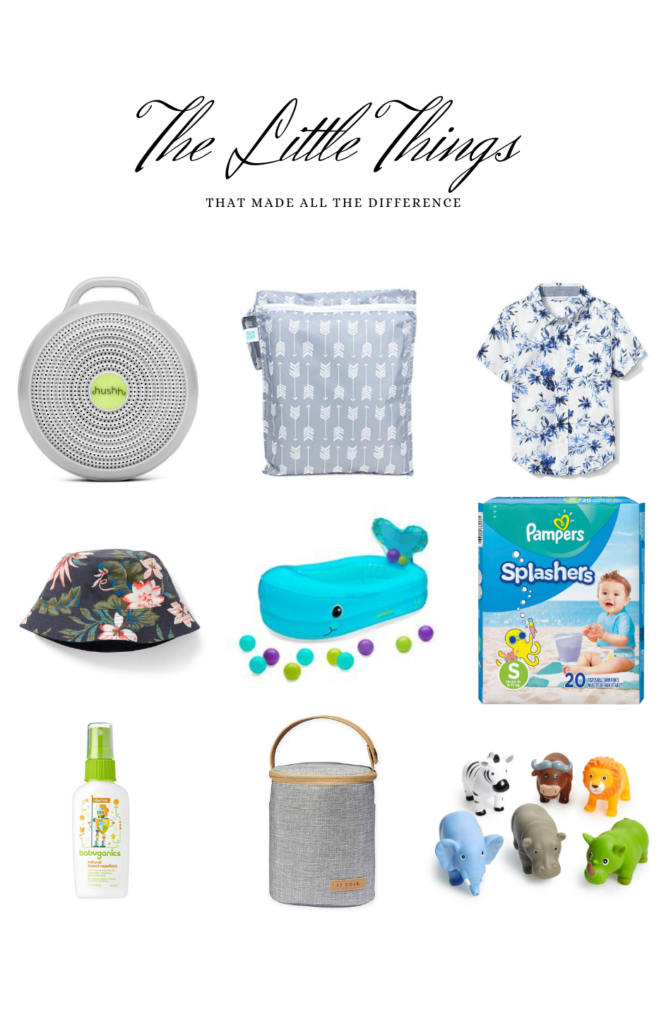 Marpac Hushh Portable Sound Machine – The best $35 bucks ever spent! This travels everywhere with us and Kai will not go to sleep without it. Very easy to pack and is charged by a USB cable that is included.
Planet Wise Wet/Dry Bag – The best solution for carrying wet bathing suits and dirty cloths. I just threw everything into this bag and didn't have to worry about anything else smelling or getting ruined within the luggage. Throw it in the wash when you get home with the rest of the cloths and pack up for your next trip!
JANIE and JACK – Tropical floral shirt and bucket sun hat. Such great quality and so easy for Kai to wear. I purchased a few different sets for our vacation and some shorts double as swimsuits so a win win. FYI-many of them are on sale now!
Infantino Whale Bubble Ball Inflatable Bathtub– Used this for his bath in the hotel room as well as a place for him to play on the beach. It was only $12.99 (was on sale in Buy Buy Baby) and did not feel bad leaving it behind. It comes with a bunch of plastic balls, but I left those at home.
Jungle Party Squirtie Bath Set – Currently Kai's Favorite. He is obsessed with these little animals because they are so easy for him to hold as well as bite! They traveled everywhere with us from the bath to the beach … oh and out to dinner. They are the best and need to purchase another set asap.
Things we could have done without:
A surplus of outfits
The UPPAbaby MINU
Not as many toys
Diaper (get those there if you can)
Things we wish we would have brought:
Baby Monitor
More pajama
Extra disposable bibs
Extra Water Wipes
4Moms Pack and Play vs. the Fisher Price Bassinet
I can only hope this list helps you to organize your travel plans with baby. Remember, it will be a lot of work the first time around and a little less relaxation, but all in all it was a great getaway with lots of amazing memories made.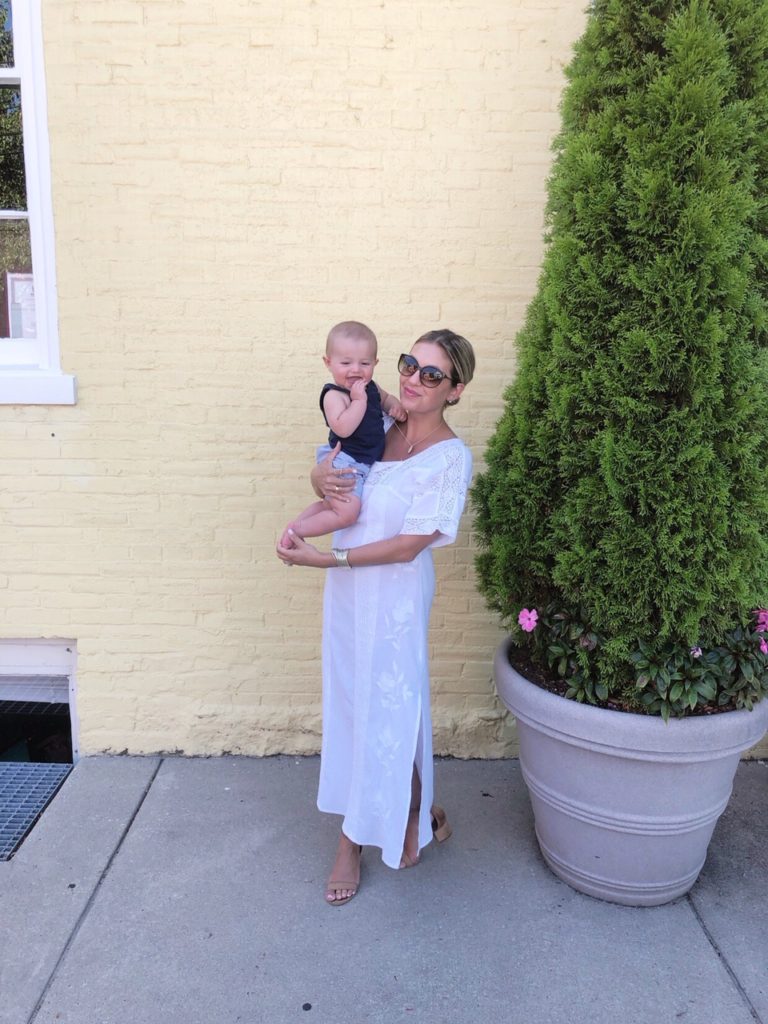 Please feel free to let me know in the comments section of anything I might have missed.
XO Danielle